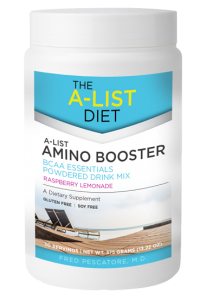 BCAA Essentials Powdered Drink Mix
Raspberry Lemonade
Create your own fat-burning amino boost!
Your A-List transformation begins right here with the A-List Amino Booster. This powdered drink mix is formulated with BCAA Essentials to help you curb hunger, boost your metabolism, and fuel your body for weight loss.
Instead of tracking down an array of different BCAA powders, you can get the A-List essentials right here in this refreshing raspberry lemonade mix.
This unique formula is a delicious starting point for your personalized A-List Amino Boost plan, and is fast becoming a favorite "shortcut" of A-List dieters everywhere.
You can mix it with cold water for a light, refreshing drink that stands alone. Or, create your own go-to Saturday night cocktail by blending it with ice and a shot of vodka.
A-List Tip: Check out our recipe section for additional easy shake recipes and cocktails you can mix up at home with A-List Amino Booster.