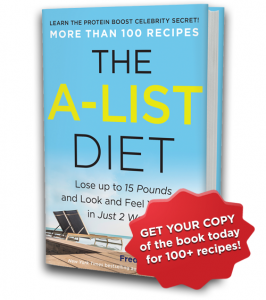 Forget calorie-counting. Forget eating the same bland diet food day after day.
Forget depriving yourself!
The best part about the A-List Diet is that you will lose weight by eating well—unlocking the power of metabolism-boosting amino acids in fresh, unprocessed, REAL food.
And you'll love every minute of it.
I've included more than 100 A-List recipes in my book along with a delicious 30-day meal plan to help you get started. That way, you'll always have fresh, enticing ideas on hand. Shopping and preparing your healthy, fat-burning A-List meals will become a highlight of your week—even if you've "never been a good cook" before.
Here are a few of my favorite recipes to get you started.
Sample Meal Plan
Serves 2 Ingredients: 1 avocado 1 tablespoon macadamia nut oil 1/2 teaspoon kosher salt 1 1/2 teaspoons freshly squeezed lemon juice 2 jumbo eggs Coarse sea salt and freshly ground black pepper Gruyère cheese 1/2 cup broccoli sprouts Directions: 1. In a medium bowl, mash together the avocado, oil, kosher salt, and lemon juice with a fork until it's chunky. Divide evenly between two plates. 2. Heat a nonstick sauté pan over medium-high heat. Crack the eggs into the skillet. Season with sea salt and pepper and fry until the whites are set but the yolks are still runny, about 3 minutes. 3. Just before the eggs are finished cooking, use a vegetable peeler to shave eight thin slices of Gruyère cheese onto the eggs, allowing some of the cheese to melt onto the pan and crisp up. 4. When the eggs are cooked and the cheese melted, carefully transfer one egg onto each bed of avocado. Top each with some broccoli sprouts and serve.

Serves 1 Ingredients: 8 ounces ground beef 1/2 teaspoon ground cumin 1/2 teaspoon smoked paprika 1/4 teaspoon freshly squeezed lime juice 1 large iceberg lettuce leaf 1 ounce cheddar cheese, shredded 1 tablespoon sliced jalapeño 1 1/2 tablespoons red taco sauce Directions: 1. Preheat an outdoor grill or stovetop grill pan over high heat. 2. In a medium bowl, mix the beef, cumin, paprika, and lime juice until well combined. Form a patty that is oblong rather than circular. Be careful not to overwork the meat or pack the patty too tightly. 3. Grill the patty to the desired doneness, 2 minutes per side for medium-rare. 4. Place the lettuce on a plate and place the burger on the stem end. Top with the cheese, jalapeño, and taco sauce. Fold the lettuce over the burger—no bun required. Serve.

Serves 4 Ingredients: 1 pound smoked salmon, cut into 1/4-inch-thick slices 1 cucumber, peeled and thinly sliced 1 roll herbed goat cheese, cut into 1/8-inch slices Fresh thyme leaves 40 pistachios, crushed lightly Directions: 1. Top each salmon slice with a cucumber slice and a goat cheese slice. 2. Sprinkle with thyme and pistachios. 3. Roll them up and serve. Note: This recipe also makes a great hors d'oeuvres for a party.
Plan Your Own A-List Party with this Foolproof Menu
You'll find a full 30-day meal plan complete with more than 100
delicious celebrity-approved recipes in The A-List Diet.