Off-the-charts Gorgeous!
Health and wellness expert Danielle's A-List Success Story
Beloved radio host, Danielle Lin, C.N., has been a leading voice in conscious media covering topics of health, wellness and spirituality for over 30 years. She shared her A-List Diet experience thus far:

Update: Fun in the Sun!
"Just returned from Hawaii where I easily sported my new bathing suit thanks to the A-List Diet. I have to say that my friend, Karen, who did the A-List program with me, looked even more fabulous on the beach. Off-the-charts gorgeous! I could really see the profound difference and her complete body change. Must say I was a little jealous…and even more inspired. Time for a new order to get ready for my holiday body! Thanks. We love the system. It works…"
Day four and jacked!
"Day four and jacked! I love this. I thought it would be hard but it's not. A good friend of mine is completing the program as well. It's so exciting! Thanks again. I am very grateful. We will see what comes of this motion and energy."
Lost 45 pounds (and counting!)
Caterina's A-List Success Story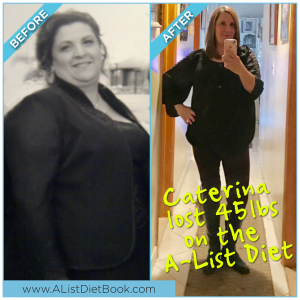 Caterina Prestano, a 56-year-old mom from New York, was convinced she'd never lose weight. She tried all the popular diet plans out there, and hadn't had much — if any — success. So when I described my A-List Diet plan to her, she was understandably skeptical. She worried it would be like the other "boring and unmotivating" diets she'd tried. But she agreed to give it a shot. And even though The A-List Diet seemed similar in some ways to other diets she'd tried — her results were far from the same.
She lost 10lbs in the first week and 20lbs in the first month. "To my surprise, adding amino acids did the trick," she said.
These days she's currently down 45lbs and still losing weight. Not to mention—she feels great!
Did it just in time for the Golden Globes!
Amanda's A-List Success Story
"My patient Amanda is a Golden Globe Award winner. She needed to lose about ten pounds before the 2015 Golden Globes ceremony, which took place shortly after the holidays. Amanda has been working with me for several years, but with all the pressure on her that year, she took partying to a new level in Punta del Este, Uruguay. She came to see me right before red carpet season.
"Luckily, I knew how she usually ate, so all I needed to do was simply protein boost her diet, in addition to adjusting the proteins in her meals.
"Within two weeks, she had lost the ten pounds—in plenty of time for the show. She didn't even have to adjust her exercise regimen. She looked amazing when she picked up her award, and she felt even better."
From "Uh-Oh" to "AMAZING" in two weeks!
Melissa's A-List Success Story
"Melissa, a television and movie star I'm sure you know well since she's constantly on the cover of magazines, had some medical issues. For one, she is perimenopausal, and that makes weight loss quite difficult. While many A-list actors slack off between roles, Melissa can't because perimenopause doesn't allow for that kind of leniency.
"Melissa was about to do a role that required her to look fit but one where she needed to be taken seriously—something she might get nominated for. Time for the big guns.
"Bottom line: Melissa needed a different protein booster shake than what she was taking, and she had fallen into a rut of eating too many acidic foods. I switched her to the shake for the Diet Challenged and recommended more of the alkalizing foods. Because of perimenopause, she needed to eat more fish, which has more essential fatty acids to help boost metabolism than white meat chicken does, and full-fat dairy. I encouraged her to eat more foods that contain lysine to promote collagen formation, such as nuts, seeds, and eggs, so her skin would look better—and to up the ante on the vegetables.
"Within two weeks, she looked amazing. She had not only lost the weight necessary for the role, but she didn't need to have a face peel because her skin was radiant. She was thrilled. I was thrilled, too, and the best part is that it was so easy."
Lost 10 pounds by Day 7!
Mike's A-List Success Story
"Phase One of the A-List Diet is the part that A-listers like the best because the results are quick and easy. That said, Mike, a rap icon, almost cried when I explained it to him. I never expected such a reaction from such a macho guy. I reminded him that the Grammys were two weeks away and he would be very shirtless on stage.
"He dug deep, did it, and called me on day three to tell me that he was amazed that he was never hungry at all. By day seven he had lost ten pounds. He was a happy man."
Lost 86 pounds and counting!
Marla's A-List Success Story
"Marla, a fifty-four-year-old woman, came to see me because she was at least a hundred pounds overweight. She was diabetic and was unable to control her blood sugar, so her doctor put her on insulin. Marla hated insulin and told me that she would do anything to get off it. She was okay with taking nutritional supplements and even her diabetes medications, but the thought of insulin scared her.
"After doing all the necessary blood work, we started with the detox program (see chapter 3) and then the perimenopausal program, with two protein boost shots per day and the specific protein booster shake.
"Marla has lost eighty-six pounds as of this writing. She had been on many other diets over the years, but she told me the other day that the A-List Diet is the only one that has worked for this long—all the others either stopped working or she gave up. We both looked at each other and said, 'Protein boosting!'
"Marla is no longer on insulin and takes just one pill per day for her diabetes instead of six."
"A thinking dieter's book, not like any other"
"This is not necessarily a diet book for the fad dieter. It's a very informative diet book for the person who wants to get control of their health and lose weight. It's a thinking dieter's book, not like any other."
—Juliana Loyola
"This diet book teaches so much more than how to lose weight…"
"This diet book teaches so much more than how to lose weight. I am learning what I never knew about the three groups of amino acids etc. and finally am going to have some variety in what I eat. This is great!! Plus all the stuff about how to choose meat in a store. Luckily, living in the year 2017 I can get all organic grass fed etc. etc.
I have to say that this is much more than I expected. This is a layman's medical education. So important right now when  many people not only are not getting results from their regular doctors but our system simply does not pay attention to stopping or slowing disease before it gets to the acute care stage. This gives power to the patient to really make changes in their lives. It lets people take their health care into their own hands with more specifics about their individual genetics, age, etc. And consumers will be far better educated when they do have questions for their doctors.
I am challenged by all of the information in this book and love learning about this stuff. I have to say, I didn't think that any of it would really be helpful for me because I am probably 15 pounds underweight according to the BMI scale. But I am fascinated and it is so rich in information for me as well!
My father (who was a physician) would be very impressed. You have taken diet and nutrition for diabetes to a new level. His intentions were the same as yours but he had much less to work with."
—Martha P.
"Thanks, Dr. Fred!"
"I have found amazing revelations in this book and am recommending it to all my relatives and friends! Thanks, Dr. Fred!"
—C.B.
"Just got my copy of The A-List Diet"
"Just got my copy of The A-List Diet and one of the first things I noticed is that Dr. Pescatore acknowledges there is always room for improvement, since nutritional science is constantly evolving. He is a doctor who is always open to the latest findings which I find very encouraging. Can't wait to get into the rest of the book. I wish him all the best as he has always had what's best for me and all of his other patients at heart!"
—Dianne M.
"Virtually guaranteed to get you results"
"Fred Pescatore demonstrates once again why he is one of the most innovative thinkers in the low-carb movement. This exciting new book goes way beyond the standard low-carb prescription of meat and vegetables and shows you how to make a few simple tweaks that are virtually guaranteed to get you results."
—Jonny Bowden, PhD, CNS
Best-selling author of The Great Cholesterol Myth, Living Low Carb, and Smart Fat
"THE new diet book of the decade"
"Dr. Fred stands apart — He does not simply rehash what is already known in the diet world, but is innovative and creative to uncover new solutions that work. The A-List Diet is THE new diet book of the decade."
—Ann Louise Gittleman, PhD, CNS
New York Times award winning author of 30 books on detox, health, and healing
"A genius when it comes to diet and nutrition"
"Throughout our 25-year association, Dr. Pescatore has been the most trusted voice when it comes to my health and wellness. He has continually offered alternative and successful approaches to problems that baffled others.  He is smart, sensitive, always at the forefront of what is new—and has never given up on his battle to end obesity in America. Simply put: He's a genius when it comes to diet and nutrition."
—Heidi Clements
Executive producer of Baby Daddy, Former Executive Producer of Entertainment Tonight, Author of Welcome to Heidi
"Passion for medicine and nutrition"
"More than 40 years ago, my husband Dr. Robert Atkins, a respected cardiologist pioneered and championed the health and longevity benefits of a nutritional lifestyle grounded in good fats, protein, and moderate to lower carbohydrates. Dr. Fred Pescatore was a very valued and respected member of Dr. Atkins' team, helping patients to feel and look great while improving their health. Dr. Pescatore's commitment to a healthy nutritional lifestyle has remained steadfast through the years.  To this day, his passion for medicine and nutrition continues to benefit his patients and readers."
—Veronica Atkins
Co-founder of the Dr. Robert C. and Veronica Atkins Foundation
What people are saying about Dr. Fred Pescatore…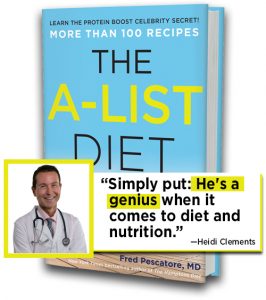 "Within 6 months of visiting Dr. Pescatore and learning his methods, I had lost all the weight I wanted to—over 30 pounds. Any woman who has tried to lose weight at this age knows it is almost impossible. Dr. P, you are a miracle worker!"
—Barbara Goldman, White Plains, NY
IT'S LIKE I'M 25 YEARS YOUNGER!
"I still can't believe the results. I've lost about 75–80 pounds, and kept it off now for two years with Dr. Fred's help. People at work keep telling me 'Jack, you look 25 years younger!'"
—Jack Birney, Princeton, NJ
MY LIFE CHANGED!
"I was 30 pounds heavier, miserable, sleep deprived, and DEPRESSED! Then I found Dr. Fred and started listening. Now I've lost weight, and 90% of the side effects of menopause are gone. I honestly can't thank him enough for continuing to protect those of us who need it."
—Tara Hestings, New York, NY
YOU SAVED OUR LIVES!
"Thanks so much for helping to save our lives! GOD BLESS YOU!"
—Bonnie Myers, Kensington, PA
HIS PLAN JUST WORKS—I LOST 90 LBS!
"Frankly, I was shocked when Dr. Pescatore told me what I could eat and how much! Today, I'm diabetes-free and 90 pounds lighter. My wife is diabetes-free too and she looks years younger. I'm told we both do. Dr. Fred's advice just works."
—Randolph Miller, New York, NY
THANK GOD FOR YOU!
"THANK GOD I came across your information! Many THANKS!!!"
—Georgia Peltau, Gainesville, FL
I'VE LOST OVER 25 POUNDS!
"This is the best I have felt in my entire life! No more belly bloat, diarrhea, or best of all, anxiety. Through working with Dr. Pescatore, I realized that a good deal of it stemmed from the way I was eating. I am off my anti-depressant medications and have lost over 25 pounds."
—Laura K., New York, NY
I TRIED SO MANY TIMES…
"I tried many times to lose weight but I never did. Dr. Pescatore and his staff made me open my eyes, and I lost a total of 50 lbs. I look and feel great."
—Anthony M., New York, NY
I AM A NEW MAN
"After giving Dr. Fred Pescatore a try, I am a new man. I am no longer on any blood pressure medication. My cardiologist is amazed."
—Sam Tessler, Dallas, TX
DROPPED SEVERAL DRESS SIZES
I saw Dr. Pescatore because I was overweight, had diabetes, and also a sluggish thyroid. He immediately switched me to a more natural thyroid preparation and I started sleeping through the night. I began his Hamptons Diet and lost more than 25 pounds. I dropped my blood sugar medication along with several dress sizes."
—Deborah L., New York, NY
EASIEST ADVICE EVER!
"Easiest advice ever. I feel terrific!"
—Jim Ferreira, Boston, MA
THANK YOU!
"Thank you, Dr. Pescatore, for the best advice I've discovered in my 77 years!"
—Denise Embry, Sacramento, CA
IT WORKS!
"Dr. Fred has the best health programs I have ever tried! One time I lost 5 lbs. off during Christmas!!!"
—Mary Bowman, Topeka, KS
I lost 35 pounds in 6 months!
"I've followed your diet for almost 6 months, lost almost 35 pounds & feel better! I just ran out of my BCAAs & I'm starting to be hungry again so they definitely curb & control cravings!"
—Lisa G.
Down 12 pounds this week!
"Ordered the book and questioned if I was going to be able to do this as I am a 53 year old woman who has loved carbs and sugar my entire life. Just finished week one of phase 2! Down 12 pounds this week I love it! Tried several recipes from the book and they are delicious! I freeze the extra servings for quick meals when I don't have time to cook!"
—Kim K.
My jeans are loose!
"After only 2 weeks of using the A-List Diet, I've lost 8 pounds and my jeans are loose, so I've lost belly fat too. Thank you, Dr. Pescatore!"
—Gayle P.
Down 42 pounds!
"I started the A-List Diet when I learned about it in April. I'm 53 years old and down 42 pounds!!!"
—Marcela C.
AM/PM Game-changer!
"The a.m. and p.m. shots have been a game changer!"
—Karen P.
I love this book!
"The last diet I was on, a hospital diet, cost $400 a week just for support and horrible boxed food. I'm so happy to have found this book!"
—Anna
Changed my life
"I've read more diet/health/wellness plans than I can count. They never seem to last for me. After implementing Dr. Pescatore's plan, not only have I started to take off the weight but I FEEL fantastic. It's not a chore. It's enjoyable. Dr. Pescatore's knowledge about how each body is different and our individual needs when it comes to diet and exercise and overall well being is enlightening. I'm finally learning about why my body responds to certain diets and why it doesn't to others. Trust me… get this book. It will change your life. It has mine."
—S.S.
Simple to follow
"AMAZING BOOK! As a young woman who has struggled with her weight and living a healthy lifestyle this amazing book has started and will continue to change my life!!! The recipes are amazing, simple to follow and just simply delicious."
—A.C.